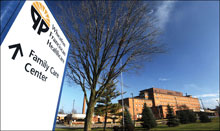 As Wisconsin's second-largest private employer, Wheaton Franciscan Healthcare has over 12,000 associates in Southeastern Wisconsin, as well as partnerships with over 1,300 physicians throughout the region. To help maintain this high-quality staff, they count on Concorde. In fact, WFHs physician recruiter has praised Concorde for their very qualified physicians and their ability to match both in position and location.
Facilities: Wheaton Franciscan Healthcare of Southeastern Wisconsin has outpatient centers and physician clinics, six major acute-care hospitals, three transitional and extended-care facilities, a full-service medical laboratory and home health and hospice agency.
Placements: Concorde Staffing Source has most recently placed a General Internist at WFHs Racine location. In addition, Concorde has also placed a Pulmonologist, OBGYN and Endocrinologist at their Milwaukee locations.
Why Wheaton Franciscan Healthcare Counts on Concorde
Concorde offers a high-caliber pool of physicians who deliver excellent care.
Physicians' background and reputation are thoroughly examined to mitigate risk and establish trust.
Can be very cost effective for WFH since Concorde offers more attention and resources for their money. Concorde and WFH have effectively teamed up to negotiate cost effective compensation packages to save WFH money.
Allows WFH to receive in-demand specialists who are the right fit for them, often utilizing locum tenens services as needed before their permanent physicians arrive.